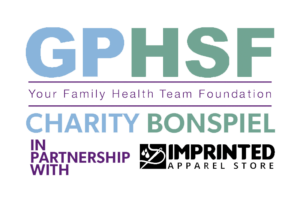 Thank you to all of our curlers, sponsors, the Peterborough Curling Club and The Stone House for your support of the 1st GPHSF Charity Bonspiel in partnership with Imprinted Apparel Store on January 21st 2023.  It was a great day and great time, with over $3000 in prizes given out by Imprinted Apparel, Plus over $250 in cash given away with the Ruttle Group Curl-The-Button Challenge and our Trivia Challenge.
Funds raised from this event will continue our mission to broaden health equity and access to healthcare for the residents in Peterborough City and County as well as Hiawatha and Curve Lake First Nations.   Funds will support our partnership with the Peterborough Family Health Team, along with many other community organizations we work with.
We look forward to hosting another Bonspiel in 2024.  More information will be available late 2023.
THANK YOU TO OUR SPONSORS